If you've ever watched any episodes of Fixer Upper or love looking at before and after photos of decor image in magazines you may have become enamored with the simple yet perfectly elegant farmhouse look. Pinterest is bursting with so many brilliant DIY ideas and creative projects that I decided to create a roundup post with some of my favorite ones.
Additionally, all these DIY Farmhouse decor ideas are cheap! We all know there's lots of decor you can pay a pretty penny for, but if you're watching your wallet and want to save some coins, these are some absolutely cute ideas that'll save you money as well.
Feel free to browse through some of these ideas, try some out for yourself and let me know how you like them!
15 Cheap DIY Farmhouse Decor Ideas You Have to Try
1 | Rustic Stepladder Side Table
If you have a wooden ladder or find one used at a thrift shop this is an easy project to upscale your bedroom decor. You can add some additional planks if the ladder doesn't have enough or if you want the existing planks to be wider, you can add some wider planks of wood on top of them.
You can also place this item in your living room, den, movie room, front entrance, or anywhere else a step ladder side table would look great in your house.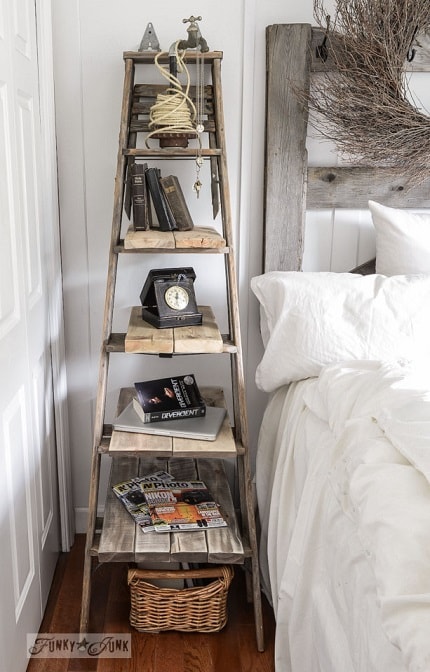 Full Project Tutorial: Funky Junk Interiors
2 | DIY Galvanized Planters
This DIY plant is super easy to make!
The planter itself you can pick up from the Dollar Store and the supplies to age it are items you already have in your home: salt, hydrogen peroxide, and vinegar.
The work to age the metal takes a little bit of elbow grease but not too long. Check out the tutorial below!
Full Project Tutorial: Little House of Four
3 | Distressed Wood Frame Hanging Planter
Make this simple and attractive decor piece to place in your entryway, mantle or on a hallway furniture piece.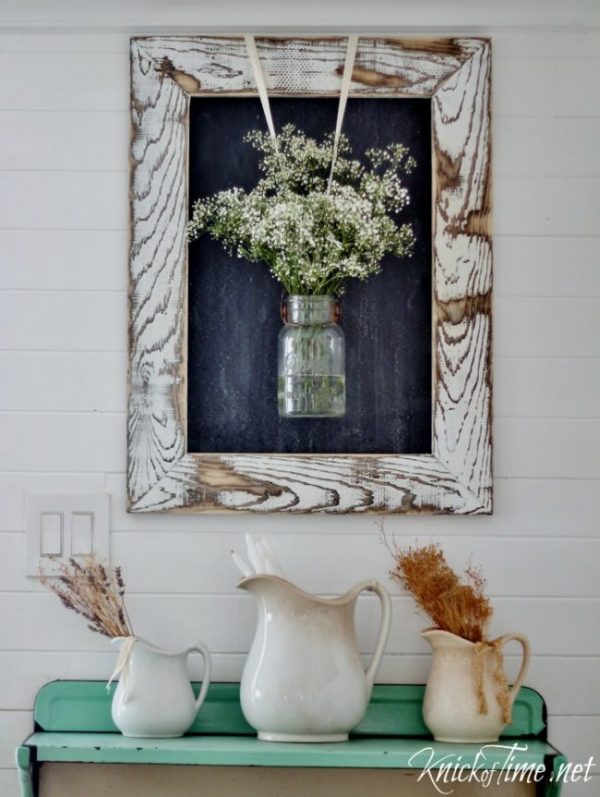 Full Project Tutorial: Knick of Time
4 | Birchwood Candle Holders
These candleholders are simply the cutest! All you need to create these unique decor pieces are some birch wood and a way to carve out the centers for the tea light candles.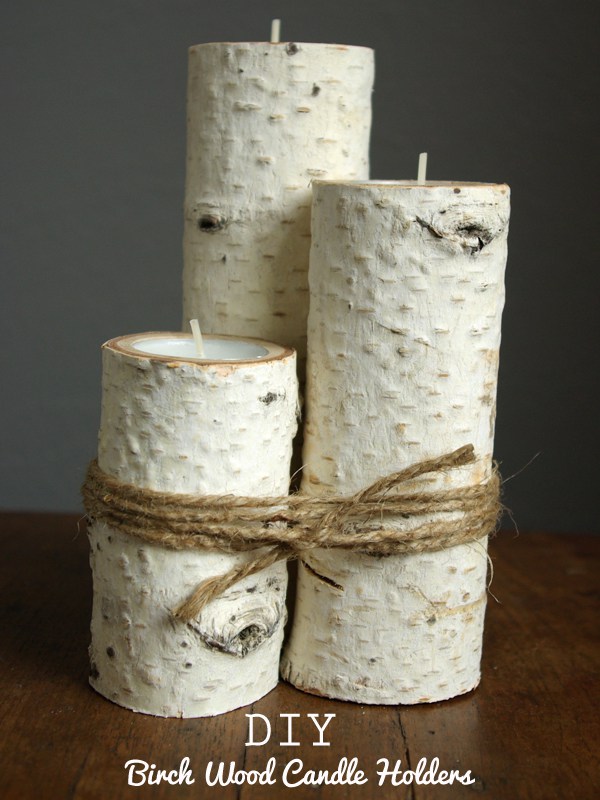 Full Project Tutorial: Oleander and Palm
5 | Vintage Bedframe Towel Bar
Try repurposing an old bed frame to create this unique and resourceful towel bar for your bathroom.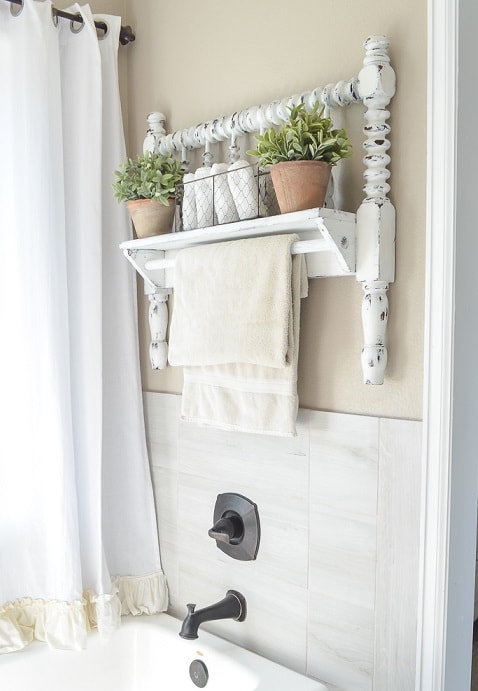 Full Project Tutorial: Little Vintage Nest
6 | Rustic Blanket Storage Ladder
Create this simple blanket storage piece to accent your living room and keep your warm and cozy blankets nearby.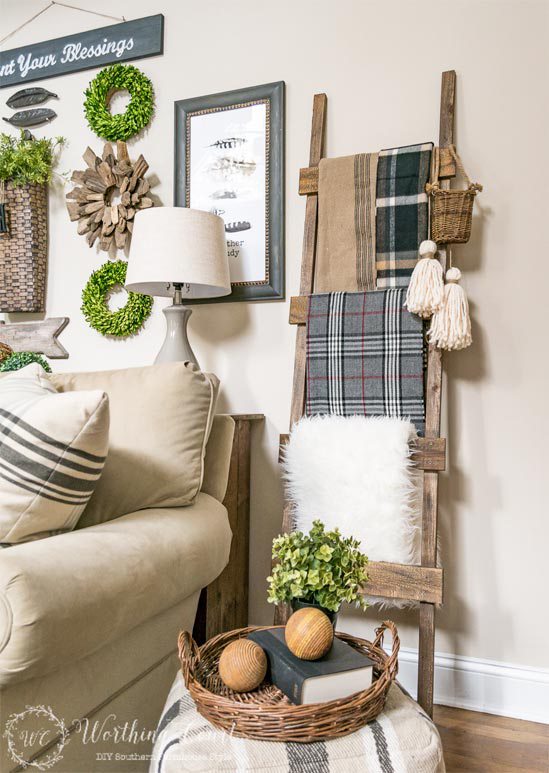 Full Project Tutorial: Worthing Court Blog
7 | Simple Painted Mason Jars
This is a simple project you can complete in less than an hour! Painted mason jars can be used for so many things and are a beautiful addition to any space.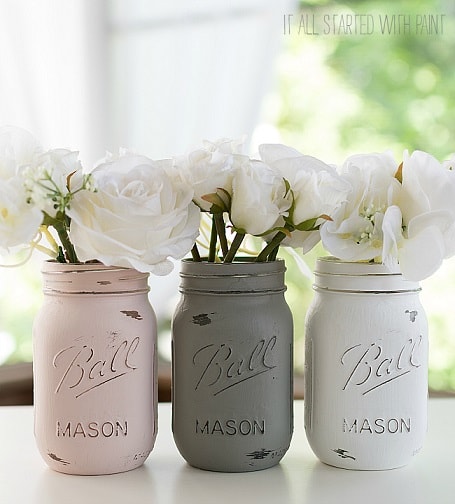 Full Project Tutorial: It All Started With Paint
8 | Wooden Farmhouse Style Sign
These rugged wooden signs are great to create to add farmhouse flair to your entryway or hang them in your living room.
These signs are simple to create since all you need is some wood, paint, and some stencils if you prefer.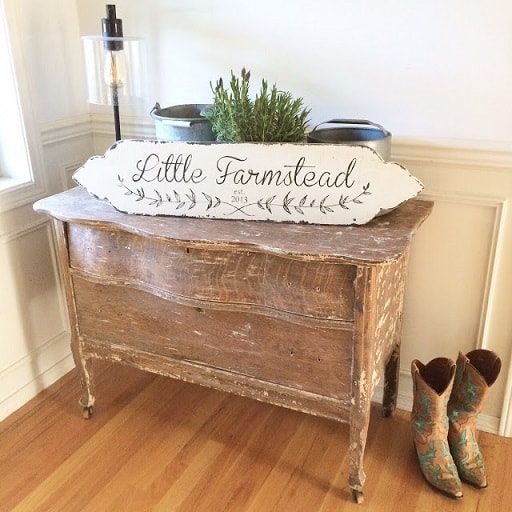 Full Project Tutorial: Little Farmstead
9 | DIY Cotton Branches
These classic farmhouse cotton branches are perfect for decor pieces in any room. Unfortunately, they tend to be pricey in the stores. So making them yourself is the perfect solution!
This craft project only cost $4.00 to make both the cotton branches and the wreath.
Full Project Tutorial: Prodigal Pieces
10 | DIY Tiered Stand
Create this simple organizer with products you can pick up from the dollar store. Use this to organize your kitchen, office area, craft space, or any other area in your home you wish.
Full Project Tutorial: Prodigal Pieces
11 | Vintage Pantry Labels
These vintage pantry labels are just the best. You can print these yourself and revamp your pantry to have that classic vintage flair.
Full Project Tutorial: The Country Chic Cottage
12 | DIY Farmhouse Hanging Wire Planters
If you want to add some farmhouse spirit to any room, simply place this wire hanger in any room you like.
These can also be used for organizing mail, pens, and supplies, or cans/jars.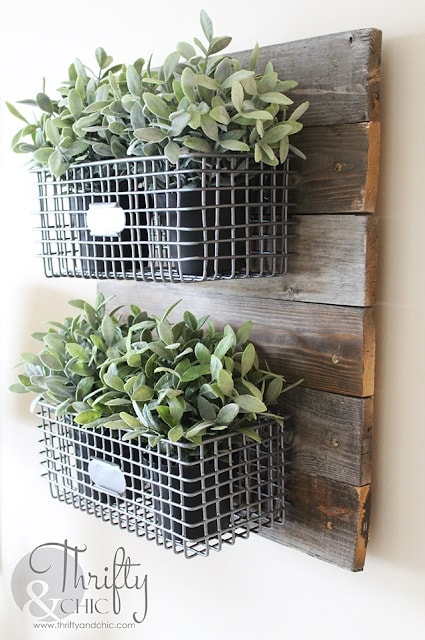 Full Project Tutorial: Thrifty and Chic
13 | Vintage Paint Can Flower Holder
This is one of the most creative and resourceful projects for farmhouse decor!
If you have old paint cans lying around, you can repurpose them to be flower holders all-around your house. All you have to do is place pretty flowers inside of them.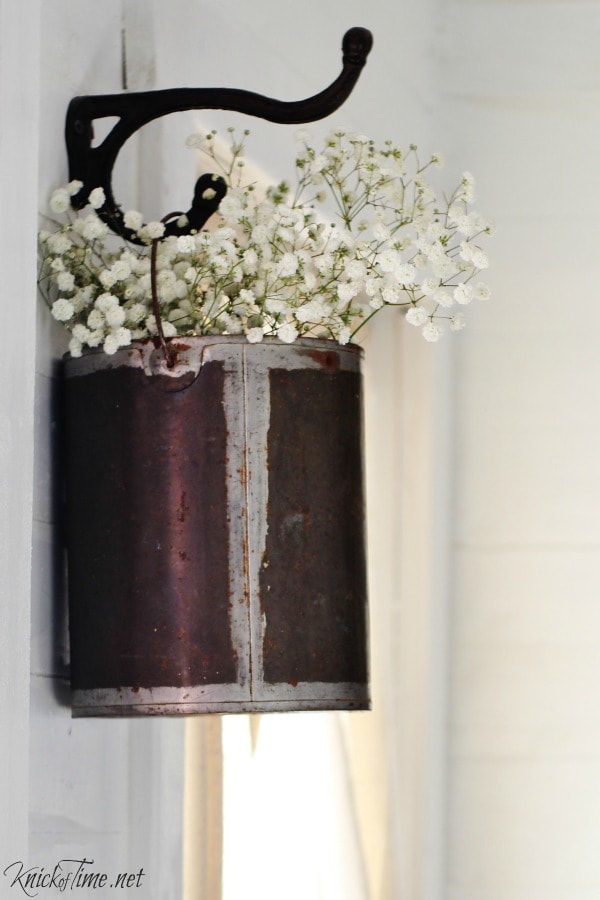 Full Project Tutorial: Knick of Time
14 | DIY Rustic Entryway Coat Rack
This is another amazing creative DIY project! I just love the creativity and resourcefulness of this!
This was created with an old door, coat hanging elements, and some frame pieces. Check out the source for the tutorial!
Full Project Tutorial: Liz Marie Blog
15 | Dollar Store Succulent Jars
This is probably one of the simplest projects on this list but it's also one of the cutest. Plants just have a way of brightening up anywhere they are and making each space beautiful.
All you need are some jelly jars that you may have lying around or can pick up from the dollar store and some paint.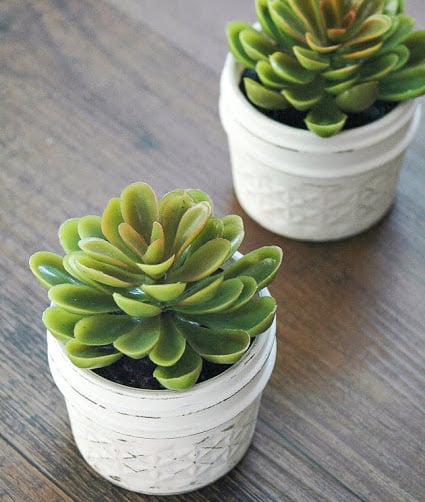 Full Project Tutorial: Little House of Four
Loved these DIY Farmhouse Decor Ideas? Pin it for later!
If you enjoyed the ideas in this roundup of affordable DIY farmhouse decor projects and would like to save it for later, pin it to your Farmhouse Decor board on Pinterest!